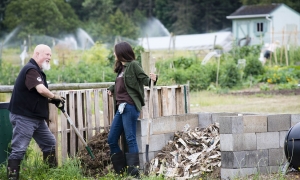 Green Business Morning Blend is an opportunity to network and discuss business environmental initiatives in an informal setting. Held on the 3rd Thursday of the month at different locations, the event is free and open to all Green Business program participants and anyone with an interest in greening their own business or workplace.
This month, Clark County is hosting the Green Business Morning Blend! Learn what Clark County is doing to bring composting to neighborhoods, schools and businesses. We will also take a tour of Heritage Farm to see the compost demonstration plot, and check out other projects happening at Heritage Farm.

Operating since 1871, the 79-acre farm has orchards, compost demonstrations, community gardens and more. The gardens and demonstrations at Heritage Farm are projects through multiple organizations, including WSU Clark County Extension, Clark County Public Health, and the Clark County Food Bank. Join us to learn more about composting in Clark County, and to get a tour of the farm!